WELCOME TO PAUL'S BOOT CAMP
Winner of the 2012 Gold Award for Top Fitness Club in Vaughan
Winner of the 2013 Consumer Top Choice Award for Top Fitness Club in Vaughan
Winner of the 2014 Consumer Top Choice Award for Top Fitness Club in Vaughan
Paul's Boot Camp has revolutionized traditional fitness classes at both Vaughan locations. This honest, no-nonsense workout program is a one of a kind fitness program that has attracted thousands of ladies throughout Vaughan and surrounding areas. It was designed around one simple goal: to create THE BEST WORKOUT IN THE WORLD! The one-hour sessions may include interval training, circuit training, static training, line circuits, martial arts conditioning, strength training using free weights, kettle bells, bands, and traditional military exercises and a whole lot more. Burning fat, tightening up the body, and building muscle has never been easier…
The boot camp classes at Paul's Boot Camp are one hour except the rush hour 5:10 camps which are 50 minutes in length. The floor work focuses on a different major muscle group each day allowing clients to develop a targeted program, or to attend Monday through Friday for an ideal well-balanced workout routine (see our weekly schedule). Our professional trainers will vary the workouts daily and incorporate a multiple of training principles like: drop sets training, peripheral heart training, tabata, turbulence training, breakdowns and the deadly 100's! The trainer may break your training into four 12 minute workouts, three 15 minute power segments or even multiple short segments rounds with a boxing ring timer moving fast and intensely every 5 minutes. The idea is to continually "shock" the body, as research demonstrates that it is the most efficient and effective way to improve your cardiovascular system, lose weight, and build muscle. The endless variety of exercises and instructor styles ensures that no two classes are the same, and that every class feels new and exciting.
FEATURED CONTENT
"I always think I can get better. I'm never satisfied. Thats why I keep working.

Ladainian Tomlinson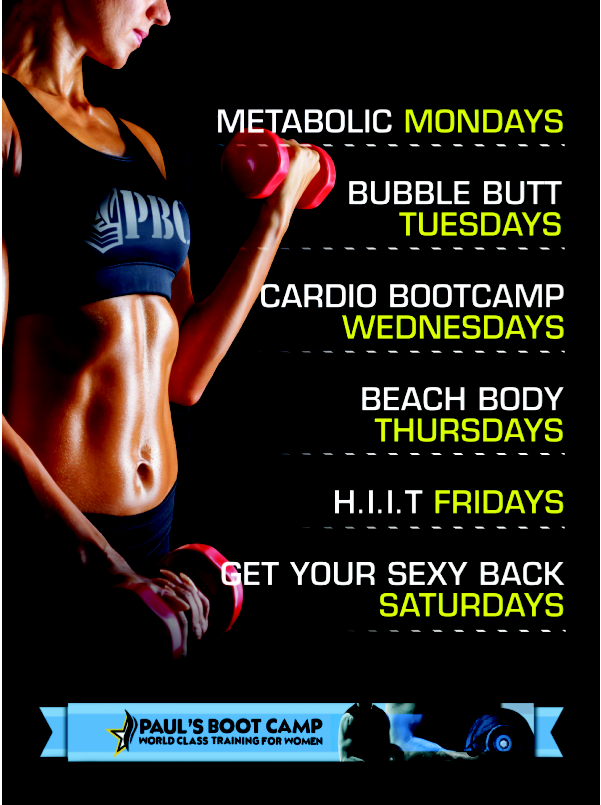 Metabolic Mondays

–
A professional trainer will coach and lead you through tough, challenging and sweaty workouts. You will train your upper body hard, using cutting edge exercises. Just when the pain gets too intense, your trainer will pull you off and hit the heart with some vigorous cardio as the muscles rest and recover. You will then be given a brief break and repeat or move to the next station. This will really maximize your time and eat up the calories/fat by burning 15+ calories per minute. Expect your metabolism to get a strong boost and use at least 500+ calories per session.

Bubble Butt Tuesdays –
OUR SPECIALTY!
Nobody does it better! We dedicate the whole day to training the lower body. You will feel tight and toned right after you finish. PBC uses its wealth of experience and endless training principles to build thigh toning, butt lifting, waist trimming results oriented workouts that change every week!. We will blend in some hard flashes of cardio to reduce that fat and toss is some abs to flatten the belly. Eight weeks of this, and your Lululemons will never look better!
This class is will change your lower body and eat 600 calories per session.
Real Cardio Boot Camp Wednesdays – You want boot camp style cardio? That is exactly what we will give you. This all out intense training day will focus on the industries best cardio techniques to make your body fat take a beating. We use a "moving" circuit. and a compilation of exercises that will keep you moving up, down, over and siBde-to-side. It is another PBC specialty. Each week, new workouts are somehow built to never repeat themselves twice. Extraordinary circuits that nobody could possibly do every day for one hour, so we just do it Wednesdays. It is a love to hate day. Hate the work, love the results. The training will be at the highest level of intensity with complicated and challenging movements. It will challenge the best of the best!
Beach Body Thursdays

-
We all know there is no such thing as "spot reduction", but if there was, this what they would call it. The purpose of this class it to make all the secret spots burn and feel tight.
Just like its name, if you had one workout to do before you put that bikini on, this is it.
This is a dedicated abs, flabby part of the arms, inner thighs, and glutes session. We will build a barrage of resistance-only (anaerobic) circuits to tone and tighten everything and throw in some serious short cardio bouts to burn some major calories in the process. This is a fantastic way to supercharge your fitness regimen, boost your metabolism, burn off extra fat and reach those goals you've set for yourself.
HIIT Boot Camp Fridays – The weekend can filled with guilty pleasures that cannot be avoided at times. We have designed one last workout to really burn some calories, hit the whole body hardcore and make your skinny jeans fit well. With all out bouts of intense exercise for short intense bursts followed by short and brief rest periods and repeat until 'skinny' or when the hour is over. Science is correct, H.I.T.T burns more calories than any other form of training- PERIOD. Eats up to 20 calories per minute!


Get your Sexy Back Saturday - Looking for the ultimate flab melter? PBC knows how to get a woman's body tight. These sessions are freshly designed every week to strengthen, condition, and define muscles like nothing else can. This is not and an aerobic class. It is a total body training session that eats calories and will push your muscles hard. If toning is your goal, this is a must do class!
Classic Boot Camp - ½ weights training ½ cardio training Sunday

-
A PBC trainer(s) will split this boot camp into two very separate sections. One segment will feature a PBC trainer making an extraordinary twenty minutes, exclusively focusing on a toning circuit (resistance training), with emphasis on total body exercises. The second trainer will take a full twenty minutes focusing on conditioning and body fat reduction exercises with a strong emphasis on cardio.